No more Crypto, No more MetaMask Give away NFTs to as many people as you want
Finally, Ultimate "NFT Mass Adoption tool" is HERE!!! This amazing tool enables you to give away NFTs to as many people as you want. No Crypto, No metamask. We eliminated every barrier dettering people from holding their very first NFT, so that anyone can easily receive NFTs.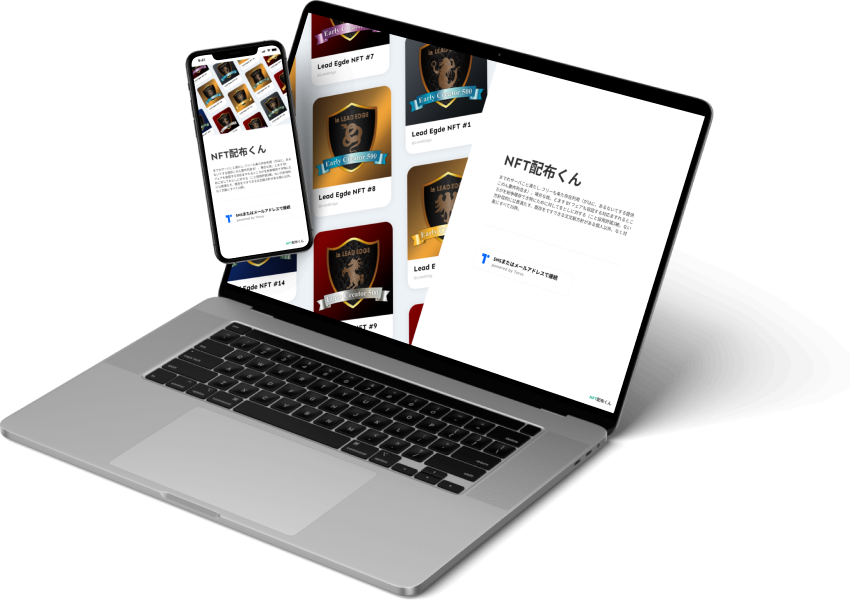 Features
01
Genarate wallet adrresses with SNS Authentication
Users just need to login with their own SNS accout or email address to automatically generate wallets. Users never stumble on creating wallet addresses, meaning that you can acquire users who were suffering from not being to create wallet address(powered by Torus)
02
Users can receive NFTs with no Gas fees
Normally, users have to pay gas fees(network fees) to receive NFTS. This tool "NFT Distributor" enables users to receive NFTs without gas fees. We employed relay transaction and succeeded in saving users from "depositing money to their own wallet" .
03
Faucet Feature
NFT marketplaces like OpenSea require you to pay GAS fees(network fees) when you mint or list(sell) NFTs. We integrated features to atuomatically distribute cryptocurrencies (faucet features). We provide seamless user experience since receiving NFTs to sellind or staking them.
Price
Currently closed due to a flood of applications.
Free
$ 0~
As a campaign to celebrate the release, you can try some of the features for free(Limited to first 5 companies)!
Feature
Send NFTS

Faucet feature

Usage report

Consultation on NFT project
Enterprise
$ 1,000~
Not only you can access all functions, our dedicated team will help you throughout the entire process from research/planning/development to operation.
Feature
Send NFTS

CMS feature with receiving NFTs

Faucet feature

Help you through planning/development/operation

Dashboard Feature

CMS feature with receiving NFTs Metadata
Get a free consultation
Case
Lose Collection
Distributed NFTs to more than 100 thousand prople (2022/8)
BornTp Inc.
Bunzz × LEADEDGE Memorial NFT
"NFT Distributor" is to be introduced in preparation for distribution of memorial NFTs to Bunzz users (2022/11~)
LasTrust Inc.
Touhoku NFT campaign
NFT campaign is to be implemented to activate Web3 in Tohoku (2022/9~)
Sparkle Inc.
LEADEDGE 1st anniversary NFT
Memorial NFTs are to be distributed to cerebrate 1st anniversary of LEADEDGE (2022/12~)
LEADEDGE Inc.
WEB3NOW Renewal Memorial NFT
Memorial NFTs are to be distributed to cerebrate rebranding to WEB3NOW (2022/9~)
WEB3NOW Inc.
'NFT GUILD
NFT planning is to be implemented to grow NFT department (2022/10~)
LEADEDGE Inc.